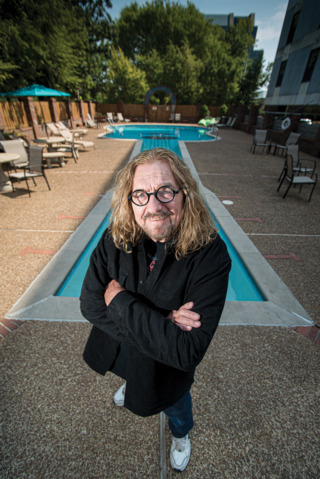 FEATURE – Nashville Byline: The Music City Baker
The long, curious life of songwriter-turned-baker Bobby John Henry

BY RADLEY BALKO [NASHVILLE SCENE] OCT 3, 2019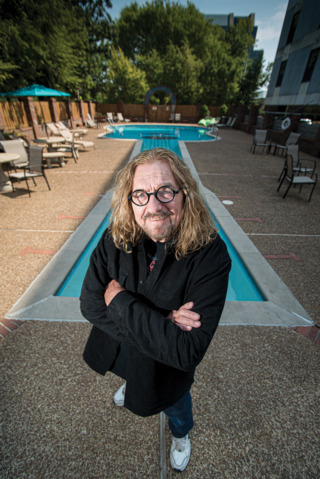 My life gets more and more interesting as I get older," Bobby John Henry says. We're at a bar near Music Row, and he's just returned from the bathroom. He sits back down and takes a swig of beer.
He's talking about his business, the Bobby John Henry Bakery, which he started when he was in his early 60s. After some fits and starts, it's thriving now. His breads are slathered, sliced and broken at some of Nashville's swankiest restaurants. But Bobby John could just as easily be talking about the life he's already lived. Start talking to him about his past, and the bold-faced names whip about like you're in a boozy fever dream after bingeing on E! True Hollywood Story. It's all a bit surreal.
It starts with Elvis. Bobby John toured with him in the 1950s. Then Frank Sinatra shows up. Bobby John knew him, and sometimes sang at his clubs. "Sinatra's pal Jilly Rizzo once punched me in the face while clutching a roll of dimes," he says. Oh, and there's legendary Kansas City political/crime boss Tom Pendergast. Bobby John married his niece. He also toured with Johnny "Scat" Davis and Louis Prima, wrote a song for Frankie Avalon, and worked with Buck Owens, Marty Robbins, Roy Clark and Bobby Bare.
A couple drinks into our chat, Penny Marshall makes an appearance. Then Ted Danson. He says his second marriage ended because he had an affair with Mary Hartman, Mary Hartman actress Louise Lasser — who had recently divorced Woody Allen. Harry Truman lived a few blocks from the radio station where Bobby once worked as a DJ. "His daughter was a terrible singer," he says.
We keep talking. The stories keep coming. There was the time he and his wife tried to rob one of Jilly Rizzo's clubs. He once saw a well-known actor nearly drown to death in a bowl of soup. And then there's the really scandalous story about a famous singer and a turkey baster that he won't let me tell here — and probably isn't publishable anyway.
It isn't that these stories aren't true. They are. Mostly. The man has lived a hell of a life. It's just that some of them get a bit more interesting with each telling. Sometimes the dates don't always match up. Sometimes details change. Bobby's a talker.
Bobby John Henry, birth name Robert Hall, was born in 1936 to a Church of Christ minister in Oklahoma. His mom sang and played the piano and cello. At about age 7, the family moved to Kansas City. By the time he was 15, Bobby John spent his evenings singing at Johnny Baker's club with figures like Count Basie and Woody Herman, then sneaking out of the house at night to sing at the "black-and-tans," Kansas City's legendary underground — and unsegregated — jazz clubs. Before he even hit his 20s, he was offered a gig on what he calls a "girlie show" tour, headlined by Elvis Presley. While briefly attending college at Indiana State, he met Jerry Van Dyke, who was hosting a local variety show on Terre Haute's WTHI-TV. Bobby started singing on the show, caught the showbiz bug again, and dropped out of school to move to Las Vegas.
For the next 10 years or so, Bobby John sang and toured at Vegas clubs and casinos, including the Sahara and the Golden Nugget. He was a headliner at the latter. He also occasionally played at the Nashville Nevada Club, where he met a young Merle Haggard. Bobby John left Vegas when he met his second wife, Misty Walker, whom he whisked off to island life, where he ran clubs in Bermuda, and then the Bahamas. He says he left the latter when the musician's union threatened to have him killed. "I was bringing in talent from all over the country, and the local acts didn't like it," he says. "They gave me 24 hours to leave." Bobby John and Misty left for Miami, and then New York, before finally returning to Vegas in the mid-1960s. There, Misty headlined the smaller room at Caesars Palace. "She caught a break and got to play the big room after Mama Cass bombed," he says, referring to Mama Cass Elliot's infamous stint in Vegas.
In the late 1960s, Metro Media Records bought Bobby John an 80-acre ranch in Bakersfield, Calif. He sang at The Bakersfield Inn, rubbed elbows with Hollywood elites, and witnessed the rock 'n' roll-ification of country music with the emergence of the Bakersfield Sound. "Louis L'Amour lived next-door to me," he says. It's also where he met Lasser, and he and Misty divorced.
By the end of the decade, Bobby began to tire of the fast life. "Leslie Nielsen helped me find this quaint little cabin in the woods," he says, unfazed by the surreality of that sentence. "Things slowed down. I was still singing and writing songs. But in the '80s I started to relax a little. I had a trout stream running through my backyard. Life was good." He opened a greasy spoon called Bobby John Henry's Speedway Diner and played in a band with some session musicians.
"We called ourselves Highway 101," he says. He says that after a few years, some members of the band — including bass guitarist Curtis Stone, guitarist Jack Daniels and drummer Scott "Cactus" Moser, now married to Wynonna Judd — moved to Nashville, took the band with them and made it big. (It's worth noting that the band's official history reads a bit differently.) Left behind, Bobby John got lonely, and was finding it increasingly difficult to book singing gigs. So in 1988, at age 51, he too packed up and moved to Nashville. But there was no record contract or sprawling ranch estate waiting for him. He'd have to start over.
He says he spent his first few years back bussing tables at Cracker Barrel and working weekends at a bar. He eventually got a job as a janitor at Spence Manor, the former hotel on Music Row — famous for its guitar-shaped swimming pool — where some of the biggest names in music used to stay when they came to town to record. The old hotel rooms had since been converted to condos. When the real estate market tanked and the building began to get run-down, Bobby John says he had saved enough money to start buying up the units at bargain prices. He eventually bought up nearly all of them. He tried to return the building to its former glory, turning some of the units into extended-stay rooms for artists who came to Nashville to record.
He then sold some of the units to friends and acquaintances under conditions that required Bobby John to rely on their good faith to make payments and sell them back to him at a later date. "I made the mistake of making handshake agreements with friends," he says. "Didn't write things down. And I ended up getting screwed." He eventually lost much of his investment. He managed to keep one of the rooms for himself — where he still lives today — but his dreams for the building, and of making a nice nest egg for himself, were dashed.
By the mid-1990s, Bobby was approaching 60. He was driving a cab. The glitz-and-glamour days were over, and he was bankrupt. On top of all that, he got some startling news from friend and sometime romantic interest Sharon Townsend: He was about to become a father for the second time. (That daughter, Emily, is now 22. Bobby John's other daughter, Frost Palmieri, is currently 60.)
"I mean, imagine it," he says of that time. "You're 60 years old. You're down on your luck. And now you have this baby girl to support. It motivated me."
Back at Spence Manor, a local baker had been renting the building's old room-service kitchen to make baguettes for local restaurants. Baking intrigued Bobby John. At first he just watched, but soon he asked the baker to teach him.
"I learned to make the baguettes just for fun," he says. "But when I learned Emily was coming, I needed to make a living. So I started checking out books from the library to learn how to make other bread. I'd drive a cab during the day, and practice baking at night. I'd nap when I stopped at red lights."
The baker was one of the many people who owed Bobby John money, so he kicked him out of the kitchen and took it over for himself.
He was soon selling his bread at local farmers markets. And then to restaurants. "I learned it pretty quickly. It just came sort of natural to me."
I met Bobby John in 2011 when I moved to Nashville and rented an apartment in Spence Manor. Every morning, the building was warm with the smell of baking bread. The room-service kitchen is right next to the laundry room, and as my socks spun in the dryer, I'd chat with Bobby while he baked.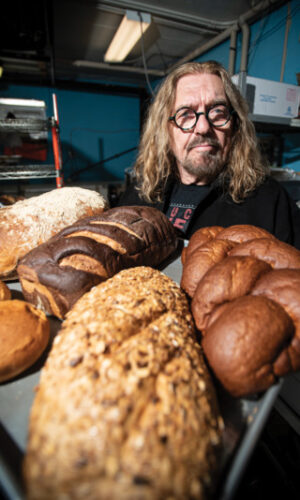 Back then the bakery was, at most, a three- or four-person operation. At times it was just Bobby John. And just as with the condos in Spence Manor, his trusting nature sometimes got the best of him. He'd recently had a falling-out with a local business about the cost of his hamburger bun, and the restaurant eventually fired him. A short time later, a 19-year-old came to Bobby John asking for a job. The young man said he'd just gotten out of jail, and was eager to learn a trade. Bobby John hired him, only to see him quit after just a few months. He later learned that the restaurant that fired him over the cost of the bun had hired the kid — and had begun using a hamburger bun identical to Bobby John's.
The Scene actually profiled Bobby John once before, in the 2010 edition of our annual People Issue. Unfortunately, the article also listed Bobby's restaurant clients. Like most other businesses, a larger bakery can operate on a lower profit margin, and can therefore sell to restaurants at lower prices. Bobby John says that within a couple of weeks of the profile's publication, local bakery Provence had snatched away half of his revenue.
But Provence has since gone out of business, and the Bobby John Bakery is still around. It's booming, in fact. He estimates he now has 115 clients, including local heavyweight restaurants Husk, Pinewood and Virago. (He's OK with us publishing their names now.) He also makes bread for the Tennessee Titans. He says he has about 20 employees, including 10 bakers, and he's planning to open a second bakery, a retail store and a pastry shop.
Now 82, Bobby John has battled some heart trouble, but he stomps around like a 60-year-old. With long hair, a stocky build and eyeglasses wide and round as whiskey tumblers, he looks like he could front a metal band.
"I've started dating again," he says. "I've spent so much time working the last 20 years, I forgot how to have fun. But I'm learning."
Emily has now graduated college, and she helps Bobby John run the business. "I'm not much of a money guy," he says. "But she's great at it. She's helping me get what I'm owed." Emily discovered that her dad's friendly nature has again gotten the best of him. He'd been neglecting to collect from his clients, and he was owed in total about $300,000. (None of the restaurants named here owe him money.) She's helped him turn that around.
And he still has plans. "I give it about 10 years before Tennessee legalizes weed," he says. "I want to be the first business selling marijuana cookies in Nashville."
Bobby John also hasn't given up on music. A few years ago he recorded "Fishin' With Merle," a tribute to the country legend that still gets some play on local radio (listen to it here). "We'd just finished recording it in the studio when I got the news that Merle was gone," he says. "I used to be so competitive when we sang in Vegas all those years ago. When I heard he was sick, I realized I never told him what I thought of him — that he's the greatest country songwriter who ever lived. So I wrote that song. And I got to play it for him before he died."
Back in his small apartment at Spence Manor, Bobby John plays me another song. It's part of a collection he co-wrote and recorded in the early 1990s — before the bakery, before Emily, back when he was struggling to get by. A local producer recently remixed the collection. He pulls the song up on his computer, then sits at his desk, and drops his head. As the song begins, 82-year-old Bobby John, the Music City Baker, taps his finger to the beat and quietly mouths the lyrics. Meanwhile, early-1990s, down-on-his luck Bobby John belts out steamy, swelling vocals. A soulful rockabilly tune — this one — fills the room.
"It ain't over till it's over," '90s Bobby John croons. "And it ain't over yet."